World's highest navigable lake dries up, with locals facing starvation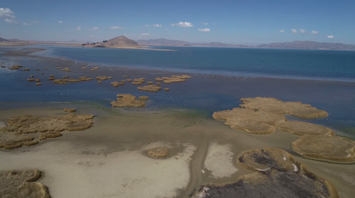 Water levels are predicted to continue to drop. Source: Juan Carita/AP
The world's highest navigable lake, Lake Titicaca, is drying up. It is recording a significant drop in water levels.
After an unprecedented winter heat wave, the negative trend is accelerating, affecting tourism, fishing and agriculture, thanks to which residents earn a living. CNN reports.
"We don't know what we will do between now and December because the water level will continue to drop," locals said.
Titicaca is the largest lake in South America. It covers more than 3,200 square miles, which is why the body of water is called the "inland sea." The lake is located on the border of Peru and Bolivia at an altitude of about 3,800 meters in the central Andes mountain range. Its extreme altitude exposes it to high levels of solar radiation, which increases evaporation and accounts for much of the water loss.
More than three million people live around the lake.
Water levels fluctuate every year, but these changes have become more dramatic because of the climate crisis. CNN meteorologist Taylor Ward says the record winter heat wave has increased evaporation and lowered lake levels, exacerbating water shortages caused by the drought.
Rainfall was 49 percent below average from August 2022 through March 2023, a period that includes the rainy season, during which water levels typically recover.
Experts predict that water levels will reach their lowest level since 1996 by December if the lake evaporates at the same rate as usual over the next few months.
In addition, a recent study that examined satellite images from 1992-2020 found that the lake is losing about 120 million metric tons of water per year. This, according to scientists, is primarily due to changes in precipitation and runoff.
Regional officials report that crops were hit hard in the last harvest season.
It is speculated that the ongoing drought may force more people flee their homes due to lack of food.