Why American families are leaving the US for Europe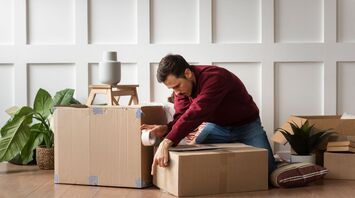 Relocation. Source: Freepic
In the United States, an unusual trend is gaining popularity: people are moving across the ocean with their families. The reasons vary, but Americans are looking for a new home and new experiences in Europe.
Moreover, there are more and more such stories, and Americans are happy to share news of a carefree life in new conditions in Europe. According to the report Dailysoundandfury, the troubles of the last few years have forced many people to reconsider their priorities and decide to start their lives anew.
According to the Dawkins family from Texas - 59-year-old Nadine and 61-year-old Kim - they bought a house with their adult children in the small Italian town of Latronico. The Americans frankly admit that they were attracted by the terms of the sale, as there are picturesque places in Europe with houses on sale for only a few euros.
Another Tibb family from North Carolina chose the Italian region of Umbria for their new life. They bought an apartment and also opened their own business in the new location. The family runs a thriving new restaurant. They serve Umbrian and Tuscan cuisine.
Finally, Pennsylvanian Alan Andrew and his Belgian partner Vincent Proust bought an abandoned farm in the Alentejo region of Portugal. The estate had been abandoned for about 50 years, but the couple started over and built a dream home.
There comes a day in our lives when we take our last vacation, whether we realize it at the time or not. That's why it's so important to make the most of our health and our youth while we have it.
At the same time, the article notes that starting next year, even traveling to Europe will not be free. The new ETIAS visa-free program will allow entry to EU countries at a price of $7.70.
At the same time, experts suggest paying attention to several options for inexpensive but high-quality vacations. For example, the Himalayan kingdom of Bhutan in Asia will cut in half the daily fee of $200 charged to tourists to attract more visitors. Bhutan has always been wary of the impact of mass tourism, but its economy needs such an incentive to recover.
It is also advised to visit traditional cuisine restaurants in Vietnam, where guests will be impressed by dishes cooked over low heat and boiled for up to 48 hours. Despite the impressive price of $170 per bowl, fans say that these dishes are unsurpassed.
In addition, in Tokyo, you can find cafes that serve insect dishes, ranging from curry from crickets and sashimi from silkworms to cider from water insects. Visitors are reminded that this is an excellent source of protein.