Where to relax in autumn or top 3 interesting countries with good climate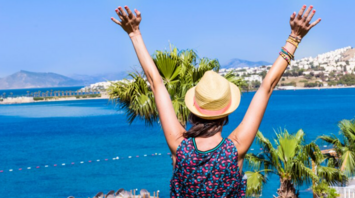 Rest at sea. Source: freepic
You can still find countries with pleasant weather in the middle of autumn. Some tourists are looking for the best city to escape the gloomy season just now.
What are the best vacation destinations that are not too busy this season? Metro writes about such countries based on the analysis of the Skyscanner team.
According to the findings of this resource, Ibiza is the best place. At this time of year, the temperature reaches 27 degrees, so it is an ideal place for UK residents until the temperature drops.
According to expert Laura Lindsey from the Skyscanner team, Ibiza will be interesting for those who do not go to clubs.
"Take a walk through the historic center of Dalt Vila, which was declared a UNESCO World Heritage Site and inhabited by bastions of the 16th century, the Renaissance. Take a stroll through the old market and, of course, check out the best beaches in Ibiza for some sand and sun," she said.
Croatia is the second favorite destination for a warm autumn vacation. Its Gothic cathedrals and cobblestone old towns are an interesting option for an autumn vacation.
"Croatia is also blessed with endless coastlines surrounded by lush forests, where you can extend your summer by nestling in secluded coves. Head to Kraljicina Beach on Nin Island to see its long sandy strip and beach bars, or find 800+ yards of sandy strip surrounded by pine trees at Sakarun Beach," the expert noted.
At the same time, if these options don't suit you, you can relax in Albania, which is being called a new rival.
"With beaches that rival its Mediterranean neighbors and a wealth of culture, it's worth a look," emphasized Lindsey, a tourism expert.