Where to find the best pub with live music when travelling to Somerset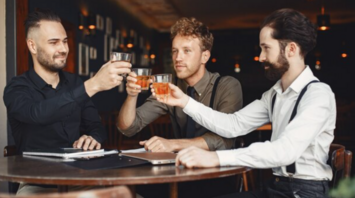 Men in a pub. Source: Freepic
The English county of Somerset is one of the most interesting places for tourists, both domestic and foreign. The people of Somerset differ from the rest of the country in their sense of humor, eccentricities and sense of fun.
There are many great pubs in the region where you can enjoy a pint of cider or pale ale. However, the real gem is the well-known live music and country pub The Sheppey in the village of Godney, about 10 minutes from Glastonbury, Somerset Live writes.
According to well-known ratings, this pub is called one of the best establishments in the county worth visiting. The Sheppey is also featured in many pub guides in the county.
As written about the pub in tourist reviews, The Sheppey was bought by new owners recently. Nevertheless, it attracts numerous visitors with its emphasis on a distinctive style and live music. At the same time, the main hall is decorated with psychedelic wallpaper and vintage lampshades.
"Book a table on the terrace by the river and order a pint of local cider and a bowl of stewed fish," tourists are advised. One of the pub's hallmarks is the abundance of live music and quirky decor, making it an ideal place to visit while in the area.
The newest history of the pub began in April 2021. The new owners have transformed the pub into the amazing place it is today. It is not surprising that the popular establishment attracts more and more visitors like a magnet.
The Sheppey is found in an amazing location, known for its beer garden and riverside terrace, a range of craft beers and local ciders, as well as regular live jazz and folklore performances.
As the new owners admit, they chose it because they liked the "quirky décor and the relaxing and casual atmosphere. "We didn't want to lose the local pub we knew and loved to a buyer who might want to change the current setup," the new owners say.
According to them, they will try to keep The Sheppey the same pub that people know and love, with music nights, great food and its general eccentricity that makes it so special.
The menu impresses visitors by changing frequently. New dishes are offered almost every day using fresh local products. Food lovers have a lot to choose from, as the dishes are made from freshly harvested local products.