What to take with you on a vacation to Southeast Asia: Top 8 things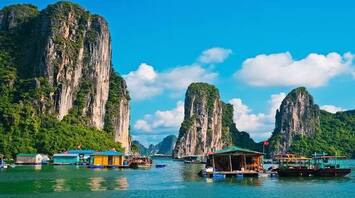 Vietnam. Source: Wikipedia
Southeast Asia is a popular tourist destination thanks to the region's tropical weather all year round.
But travelling in the region can be inconvenient, especially if you don't bring the right things. Insider explains what you should pack in your suitcase.
Sun protection kit
To protect yourself from the scorching sun, pack a sun protection kit that consists of three key items: sunscreen, an electronic hand fan, and a UV umbrella.
Packing cooling wipes
These are available in a variety of options, including face wipes and deodorizing, scented body wipes to help you feel fresher in hot weather.
Portable three-in-one charging station
It's worth bringing along a universal converter, charging station, and portable battery.
Travel eSIM card
Travellers are advised to choose a travel eSIM card to avoid expensive roaming charges.
A full set of applications for ordering rides
Hailing a taxi without a metre on the streets of some Southeast Asian cities can be stressful as it often involves haggling. But ride-hailing apps have made hailing a taxi, scooter, or tuk-tuk - an open-air vehicle popular in places like Thailand - extremely easy.
A set of travel cutlery
This will solve many problems when you find yourself in poorly equipped kitchens or travelling by bus or train between destinations.
High-quality shoes
Travellers are advised to bring high-quality footwear, such as waterproof sandals that stay wrapped around feet or flip-flops that are non-slip and made of thick material that rocks and sea creatures have a hard time getting through.
Insect repellent and wet wipes
Dengue fever is a major health hazard in Southeast Asia, so you should always take a bottle of mosquito repellent with you. This is a must if you plan to spend the day exploring the roadside cafes of Vietnam or sitting on the beach in Indonesia.