What happens to your luggage when you fly: Let's look behind the scenes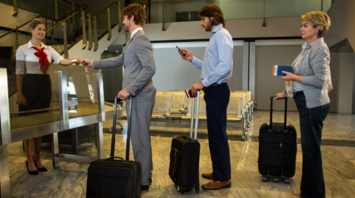 Baggage check-in. Source: Freepic
When travelling by air, passengers say goodbye to their luggage at the check-in desk and only meet it at the airport of arrival. They don't even realize how long their luggage has been travelling.
This is not surprising because the main thing for passengers is that they receive their luggage on time and without delays. That's why hundreds of people work at airports, storing, loading, and unloading passengers' luggage, according to an article by NBCMiami.
American Airlines employees showed the complex process of how our bags travel from Miami International Airport to their final destination. The main task of airport workers is to ensure that baggage arrives safely and on time.
Airport employees have a variety of functions. These employees are responsible for tracking and delivering your baggage safely and on time from check-in to baggage claim.
It is noted that Miami Airport is equipped with a baggage claim system that receives more than 45,000 pieces of baggage per day. This is approximately 5000 -6000 bags per hour.
It's hard to believe, but the airport has almost 29 kilometers of conveyor belts that move valuable cargo from one point to another using a very sophisticated system. The precise and fast movement is made possible by computers and software combined with the hard work of people.
Employees admit that one of the most frustrating things that can happen while travelling is when passengers' bags do not reach their final destination. "That's why we put in a lot of effort and work to make sure we load as many bags as possible," airport managers say.
It all starts with a special system designed to check in and label baggage at the counter. Then kilometers of conveyor belts send your baggage to several management departments that allow employees to place the bags in the appropriate car and pack them into the belly of the plane.
For example, you can track your baggage's journey to Montreal. Thus, your bag will be assigned to MU 10. After the bag is placed in the system, the automation reads the bag tag and sends it back through the system to MU 10.
Incredibly, the airport's system is adjusted to handle more than 255 flights a day. To keep the airport running smoothly, two different types of luggage are handled: the luggage that must be left at the airport and picked up at baggage claim, and the luggage that is travelling on a connecting flight.
There is an unwritten rule at the airport: baggage that is transferred from one plane to another has a higher priority. This allows flights to depart quickly and without delays.
In addition, the airport has recently set a kind of record. In June, the airport managed to achieve a very high baggage safety rate, when 99.9% of all baggage with transfers travelled with passengers.