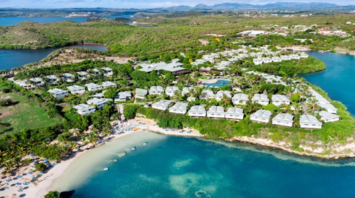 Verandah Antigua will reopen in November. Source: Verandah Antigua
Verandah Antigua (Antigua Island in the Caribbean) will reopen on November 17 and become an adults-only resort.
The all-inclusive Verandah will be the fourth resort in the Elite Island Resorts Antigua portfolio to cater exclusively to guests aged 16 and older, Travel Weekly reports.
Additions to the resort include the Wavy Wicket sports-themed bar, which offers big-screen TVs, cocktails and beer, and bar bites. It will also host movie screenings and nightly karaoke. The resort's Tranquility Body & Soul Spa has undergone a renovation that includes updated treatment rooms, new amenities, and new spa services. Verandah has also added four pickleball and tennis courts and renovated an 18-hole miniature golf course.
The Verandah Antigua is offering a complimentary fifth-night offer, which is available for new bookings made by October 31 and is valid until March 31.
The resort, which is located on 30 acres, consists of 180 suites on the waterfront, overlooking the water and the hillside. There are five restaurants and five swimming pools. Prices start from 599 USD per room per night.