Using electronic devices on board or why passengers should turn off their phones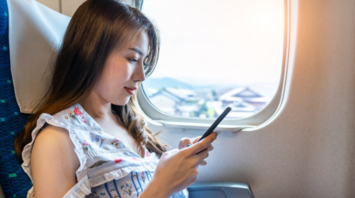 A woman with a phone on an airplane. Source: Freepic
Passengers have probably encountered the requirement to switch their phones to airplane mode during flights. However, some people may forget to switch it at least unintentionally.
According to official flight regulations, passengers can keep their phones on during flights as long as they are in airplane mode. The reason for this is simple: there have been reports of failures in the aircraft system due to the use of cell phones by passengers, GlamourMagazine writes.
Experts warn that cell phone signals can interfere with the navigation and landing systems of an airplane. Thus, the rules for using cell phones arose out of the need to take precautions to ensure flight safety.
At the same time, some countries allow passengers to use their phones during the flight. For example, the UK and the EU have recently allowed airlines in their member states to start providing 5G to passengers in the air, making in-flight mode a thing of the past.
We emphasize that the UK and the EU have no concerns that the 5G signal will interfere with equipment in the cockpit. Therefore, a plan to abandon the mandatory airplane mode for passengers was announced in December 2022.
It should be added that if you haven't even switched your phone to airplane mode on board, the staff is unlikely to know about it. However, if a large number of people start using their cell phones on board during the flight, the flight crew may face difficulties.
Crew members sometimes directly ask passengers to turn off their mobile devices if they encounter interference. It should be added that some airlines threaten to punish passengers for using cell phones during the flight. "You are violating the instructions of the crew members, the signs and the announcements, so you can be charged with two crimes," passengers are warned.
Of course, passengers usually unintentionally refuse to switch their phones to airplane mode. However, safety concerns require strict adherence to all rules of behavior on board.