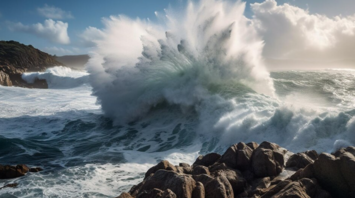 A typhoon is approaching Taiwan. Source: Freepik
Typhoon Koinu is approaching southern Taiwan. Due to heavy rain and wind, 70 domestic flights have already been canceled and schools have been suspended.
The typhoon is expected to hit the southeast coast of Taiwan on the morning of Thursday, October 5. According to the Tropical Storm Risk forecast, it will weaken after that, Reuters reports.
The mountainous and sparsely populated areas of Pingtung County in the south of the island will experience the heaviest rains. In addition, heavy rains are expected in Taitung and Hualien counties on the east coast. The typhoon will also affect the major southern port city of Kaohsiung. The cities of Kaohsiung and Tainan have announced that they will suspend work and school from Wednesday evening due to deteriorating weather conditions.
After Taiwan, the typhoon will head to the southern Chinese provinces of Guangdong and Fujian, and then to Hong Kong. There, it is likely to weaken further and turn into a tropical storm.