Travel by train from Alaska to Peru: popular train routes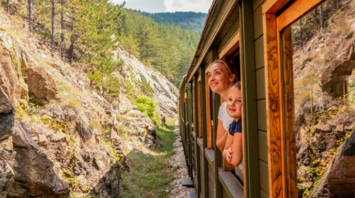 Family travels by train. Source: Freepic
Despite the fact that air travel is becoming increasingly popular, there are still many fans of train travel. For many, the charm of slow travel prevails over the convenience of flying.
Among the most popular train trips, the Aurora Winter Train holds a special place. From mid-September to early May, aurora seekers have the opportunity to spot it during this 12-hour rail expedition through Alaska, writes CondeNastTraveler.
The 565-kilometer route runs between Anchorage and Fairbanks and also stops at Denali National Park and Preserve. Travelers can also disembark at several stops for outdoor activities such as snowmobiling or dog sledding.
When traveling by steam train in Scotland, the highlight of the 135-kilometer round trip is the section that crosses the Glenfinnan Viaduct. This is a famous bridge with 21 impressive arches and tall columns, which is used by the Hogwarts Express. The railroad cuts through stunning valleys, past lakes, quaint villages and picturesque landscapes. There is also an iconic view that every Harry Potter fan will recognize at a glance.
The Belmond Andean Explorer in Peru travels at an altitude of 14,000 feet and lies on the shores of historic Lake Titicaca. It features an open deck observation car, which is ideal for passengers to enjoy the breathtaking views while savoring the sour sand.
The Glacier Express in Switzerland brings travelers to the resort town of St. Moritz - where they can enjoy breathtaking views from the panoramic windows. The Glacier Express offers one of the most dramatic views of the Rhine Gorge. It also crosses rocky mountains and passes, as well as elegant villages and picturesque streams. One of the highest highways in Europe, the Bernina Express, leads from Switzerland to Italy. This alpine route passes through 55 tunnels and more than 196 bridges, past pristine lakes and stunning mountain peaks.