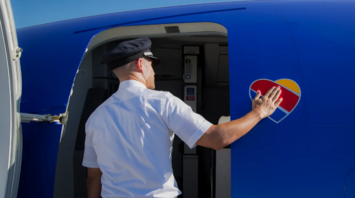 Southwest Airlines airplane. Source: Southwest Airlines
There are various methods of analyzing the economic impact of an airline, such as its annual revenue or the number of passengers carried, but employment figures are another important factor.
Simple Flying compiled a list of the best carriers by number of employees.
American Airlines
With a total of 108,313 employees, American Airlines tops the list. The airline has 95,655 full-time employees and 12,658 part-time employees.
Delta Air Lines
Delta ranks second on the list with a total staff of 99,878. Of these, 99,404 are full-time and 474 are part-time employees. It is noteworthy that at the end of last year, the carrier reduced its part-time staff from about 2 thousand to almost 400 people, which is likely due to a reduction in the schedule.
United Airlines
United Airlines is not far behind Delta with 98,831 employees. Of these, 82,153 are full-time employees and 16,678 are part-time.
Southwest Airlines
Southwest Airlines is fourth on the list with 72,007 employees. The airline has 70,590 full-time and 1,417 part-time employees. The number of employees increased from 39,000 in the first quarter of 2012 to almost 47,000 in April 2012. The expansion can be attributed to the airline's acquisition of AirTran in 2011.
JetBlue
JetBlue rounds out the list with 23,603 employees. Of these, 19,272 are full-time and 4,331 part-time workers. JetBlue's history differs from the other operators on the list because it is relatively newer to the industry. The airline entered the market in 2000 with a staff of 450.