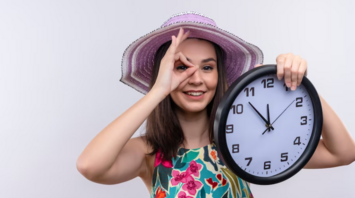 How to properly monitor your condition on vacation. Source: Freepik
Whether you're heading to the tropics or on a mountain hike, protecting your health and well-being should be a top priority.
That's why Makeuseof.com offers you tips and techniques to help you stay fit and healthy while on vacation.
Sun protection
To stay safe, always wear sunscreen with a high SPF and remember to reapply it regularly, especially after swimming or sweating. Additionally, seeking shade during peak sun hours, usually between 10am and 4pm, can also minimize exposure and reduce the risk of sunburn.
The UVLens app provides a real-time UV index and personalized sun protection recommendations based on your location and skin type.
Hydration
Hydration is paramount when traveling in the summer, especially in hot and humid climates. Dehydration can lead to fatigue, heat stroke, and a number of health problems. In addition to drinking plenty of water, incorporating electrolyte-rich foods and drinks into your diet can help prevent dehydration and keep your energy levels up.
The Hydro Coach app can be your hydration companion, helping you set water intake goals and sending timely reminders.
Healthy eating
With MyFitnessPal, you can conveniently track your food intake. You can log menus, scan barcodes for nutritional information, and set dietary goals.
You can also keep a record of what you eat to make informed choices and make sure you're getting a well-rounded combination of nutrients to support your active lifestyle.
Outdoor recreation
The AllTrails app provides an extensive database of trails for hiking, biking, and running, as well as detailed maps and user reviews.
Find the perfect route for your adventure while staying safe. Browse user-generated content with valuable information about trail conditions and difficulty levels.
Sleep quality
Timeshifter creates personalized jet lag plans based on your travel itinerary. This app will help you do the following: Get guidance on when to be exposed to light and darkness, improving your ability to easily adapt to new time zones. Take a personalized plan optimized for your circadian rhythms based on your travel details, sleep patterns, and individual preferences.