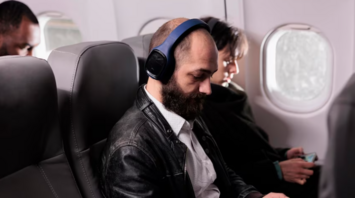 Sometimes it is difficult not to disrupt comfort on board an airplane. Source: Freepik
Quarrels and conflicts between passengers on board an airplane often arise because some of them start behaving too freely, while others feel that this is a restriction of their personal space.
The Sun reports on the behavior of passengers who usually annoy their neighbors on the plane.
Grabbing the seat in front
When people have to get up, they often grab the seat in front of them without thinking about how it will affect the person in that seat.
When you grab the front seat, you pull it, which causes quite a bit of discomfort. As a result, the passenger may wake up, spill a drink on themselves, or their headphones may fall out.
Opening the seat
Tilting the seat back is another problem that often causes unpleasant situations on board.
If you are going to recline your seat, you should realize that it will annoy the people behind you, so at least turn around and let them know in advance, and then do it as gently as possible.
Armrests
A simple rule of thumb for armrests is that the person in the middle should have the most access.
This passenger sits in the worst seat, so they deserve what little perks they can get.
However, the middle passenger is not allowed to sprawl beyond the armrests and should not spread their arms or legs beyond their own space.