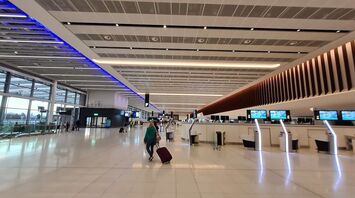 Manchester Airport. Source: Steve Young
Manchester Airport has been recognized as the worst airport in the UK by Which? Travellers primarily complain about the "long queues" there.
They describe their experience at this airport as "crowded, noisy, generally stressful," LancsLive reports.
The survey team spoke to nearly 4,000 passengers over the past 12 months and asked them to rate UK airports in 11 categories. These include seating, staff, toilets, and the dreaded check-in, baggage claim, passport control, and security lines.
Liverpool John Lennon, London City and Southampton airports received high scores in the Which? customer survey, while Manchester, London Luton and Belfast International performed particularly poorly.
Customers named the Merseyside tourist center as the best in the UK and described the experience as "first-class" with five stars.