The famous Eurostar train will connect London and the French Alps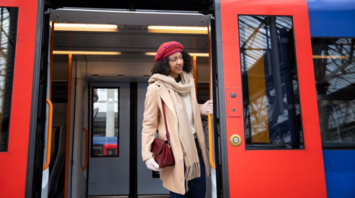 Travelling by train. Source: Freepic
The famous Eurostar train route, which connects continental Europe with Foggy Albion, is launching a new destination. From now on, tourists can travel directly from London to the French Alps by train.
The winter route connects London with many famous French ski resorts with a short stop in the French city of Lille. The new route will operate weekly and will help Britons get to the continent's famous winter vacation spots faster, according to Thrillist.
The route for winter entertainment lovers has been simplified as much as possible, as passengers in London will take a train that will take them to Lille. From there, they can transfer to the Eurostar continental express train, which will pass through some of the most popular ski resorts in the French Alps.
Flights on the new route will depart from December 16 to February 3 from London to France every Saturday. In the opposite direction, passengers will be able to travel to London every Sunday from December 17 to February 4.
"We are proud to offer our customers a safe option to travel to the Alps with the launch of our first connecting service as Eurostar Group," the Eurostar Group said.
It is emphasized that thanks to fast and easy connections, competitive prices and five stops to choose from, passengers can enjoy a trip from London to the snowy mountains of France.
It is worth noting that ticket prices are not exorbitant and start at £99 (about $125). In addition, a significant number of free bonuses are offered for tourists. In particular, passengers can take two suitcases, one piece of hand luggage, and even the ticket holder's skis or snowboard.
It should be added that the famous Eurostar train has long attracted tourists from all over the world. After all, it is considered the most convenient in Europe. If you haven't tried traveling on it yet, you should definitely book a ticket for a winter trip.