Sleeping on an airplane: what life hack will help you sleep better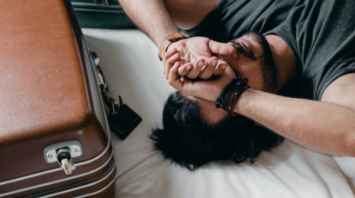 Sleeping while traveling. Source: Pexels
Travelers often spend a lot of time moving from one place to another. That's why they often try to get a good night's rest while traveling, especially if the trip is at night.
However, it is rarely possible, especially on an airplane, to get comfortable enough to really relax during the flight. Carriers can provide passengers with additional amenities (pillows or blankets), but they often charge a separate fee for them, according to the BusinessInsider.
So, tourists are advised, regardless of whether they are traveling with a backpack or a carry-on suitcase, to always take special things with them to fill with clothes and other soft items. Such kits are similar to body care kits, except that they also include clothes.
Usually, they serve as a handy tool to fit as many clothes as possible into your luggage. At the same time, experienced travelers have shared an interesting life hack on how to turn a garment bag into a handy tool that is indispensable during a flight.
To have a good rest on the plane, prepare special packing bags for your head. You can rest comfortably with them. Fill them with clothes and then they will become soft. This is exactly what passengers need to have a good rest during flights.
We'd like to add that these things take up little space and can easily fit in a backpack or bag that you take with you into the cabin.