Sins on the plane: what annoys the British the most on board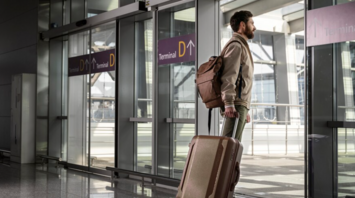 A man with a suitcase. Source: Freepic
British travelers have been warned about the behaviors that annoy other passengers on the plane. A special survey was conducted by a team of experts.
They were asked about the behavior during the flight that is considered outrageous. The most annoying actions in flight are described in the Express article.
What other passengers do wrong
1. A person who argues with airport staff
About 60% of UK residents are outraged by the behavior of passengers even before they get on the plane. They are annoyed when their companions don't listen to security personnel.
If a tourist tries to break the queue for baggage inspection, about 43% of Britons consider such behavior to be a nightmare.
2. Folding the seat back
Another passenger crime is a person who reclines the seat back without being asked. Such a seat narrows the space for passengers to move behind, which can cause discomfort when getting out of the seat.
3. A person without headphones
When flying, always use headphones to listen to music or watch a movie to avoid violating others' personal space. A number of passengers are ready to express their displeasure, and some even suggested in the survey that such a passenger should be the last one to disembark.
4. Asking to change seats
This is another issue that often leads to conflicts on board.
Some people prefer to maintain their chosen surroundings during the flight, especially if they select their seats in advance. There are also cases where passengers may have personal medical conditions, preferences, or a desire to stay close to family.