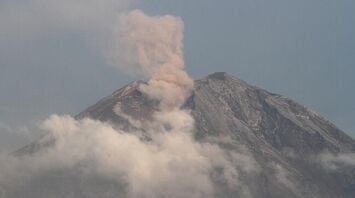 The eruption of the Semeru volcano. Source: ANTARA FOTO/Ari Bowo Sucipto
The Semeru volcano in Indonesia's East Java province has become active, spewing a column of ash 1.5 km high.
The eruption occurred on Sunday, October 1, early in the morning and was directed southeast towards the Besuk Kobokan River, CNN Indonesia reports.
According to reports from the Semeru volcano observation post, the volcano erupted at an altitude of 1500 meters to the southeast. The status of the Semeru volcano remains at level 3 or alert.
Despite the volcano's activation, the so-called "ash rain" did not fall. Experts also did not record any lava eruptions.
Meanwhile, local authorities have warned that there is a danger of hot clouds and lava flows along the rivers upstream of the Semeru volcano.
It should be noted that the last time Semeru volcano was active was in early December last year.