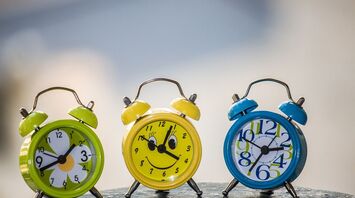 Scientists have built a mathematical model. Source: pixabay.com.
Transitioning to a new time zone is never easy, but scientists from Northwestern University and the Santa Fe Institute have discovered a new method to minimize the effects of their change and speed recovery.
A disruption in biorhythms occurs when our internal biological clocks become out of sync with our environment. Our body runs on a number of different internal clocks that are calibrated by various external and internal factors, Newsweek quotes scientists as saying.
"When we travel to a different time zone, this disruption gets worse, and it can take days to re-synchronize your biological clock. A disruption in biorhythms is not only annoying while on vacation but can also have long-term health consequences. Previous studies have linked jet lag to digestive problems, cardiovascular disease, and even accelerated aging. Indeed, disruption of our internal biological clocks becomes more common as we age. It is quite obvious that we want to avoid this," the scientists added.
They built a mathematical model that partially mimics the complexity of the human body's internal clock network.
The model has two sets of oscillators: those driven by food and those driven by light. In addition to these external signals, the oscillators can influence each other.
Thus, the team found that certain factors, such as lower sensitivity to light and weaker signals between individual oscillators, make the disruptions between these systems more severe. Interestingly, all of these factors are common symptoms of aging.
"Eating more meals early in the morning in a new time zone can help overcome jet lag. Constantly changing the eating schedule or eating at night is not recommended, as it can lead to a misalignment of the internal clock," the scientists advised.