Scandinavian airline makes first quarterly profit since 2019: experts call it a success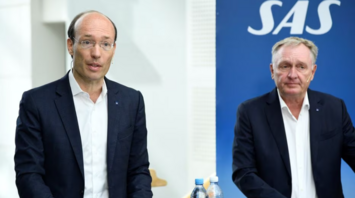 SAS president and CEO Anko van der Werff and SAS chairman of the board Carsten Dilling. Source: REUTERS.
Scandinavian airline SAS has published its first quarterly pre-tax profit since 2019. The report was made public on September 1.
This was reported by Reuters. The gain was driven by a combination of lower fuel costs, higher ticket prices and strong demand.
Thus, pre-tax profit amounted to $41.7 million for the third quarter, which ended in July.
That's a good showing, as the company had lost about $182 million a year earlier and was under bankruptcy protection.
It's worth noting that the third quarter covers most of the Nordic summer season and is usually one of the most profitable periods for the airline.
SAS now says it will ramp up capacity this winter. It originally intended to complete the restructuring by July.