Restaurant of the Year in Scotland: Who is the main contender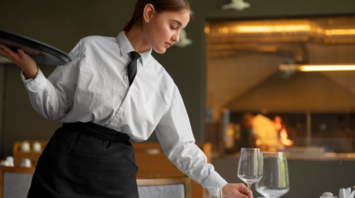 Waiter in a restaurant. Source: Freepic
There are many places with delicious food in Scotland. Large and coastal villages invite you to taste delicious cuisine.
This year, appetizing establishments in Edinburgh, Glasgow, and Aberdeen are competing for the title of Restaurant of the Year. The winner will receive the Scottish Licensed Trade News (SLTN) award, the Daily Record reports.
The winner will be announced early next month. In this category, the restaurant will be selected based on the following criteria: casual dining and fine dining.
The following Scottish restaurants take part in the competition: Silver Darling in Aberdeen and Pierhouse Hotel in Appin.
According to Tripadvisor, the first restaurant is located at the mouth of Aberdeen harbor. It received a 4.5 out of five rating on the website based on 1183 reviews. Here you can taste delicious seafood and relax overlooking the sea.
The Pierhouse is located in the quaint village of Port Appin on the shores of Loch Linnhe in Argyll. The restaurant has a 4.5 out of five rating on Tripadvisor. 672 visitors have left reviews. It is noted that here you can taste Scottish specialties and fresh seafood.
The title in the Fine Dining subcategory must be chosen among two restaurants: Dean Banks at Pompadour in Edinburgh and Porter & Rye in Glasgow. These are places where you can enjoy dishes that showcase Scotland's natural resources and try a modern steak house.
The Scottish Licensed Trade News Awards will be held on November 2 at Hilton Glasgow.