Reliable barrier for any door: tourists were stunned by the amazing Winonly Travel Door Lock device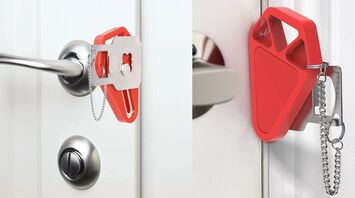 Amazing device Winonly Travel Door Lock. Source: bgr.com
An indispensable item was offered for travellers - the Winonly Travel Door Lock is a reliable lock for doors that open inwards.
Even if the staff has a key to your room, entry will still be strictly prohibited, BGR writes.
One of the advantages is that the Winonly Travel Door Lock can be attached to any door in minutes without additional effort.
"When the door is locked, no one can open it unless you open it - even if they have keys to any other locks on the door," the article says.
How the Winonly Travel Door Lock works
The device is a small mechanism that reliably blocks any unauthorised attempts to open a locked door that opens inwards.
In essence, it is an additional lock that helps tourists feel safe in any hotel.
The incredible advantage of the device is that it can be easily mounted even on doors with an electronic key card or with a master key to the overhead lock.
The developers emphasise that no one will be able to open the door unless you allow them to.
The device costs a small amount of money - no more than $12, and now there are also discount offers. So, during the summer holiday season, the Winonly Travel Door Lock becomes an indispensable device.