Railroad beyond the clouds: the incredible little train with Trentino castles is back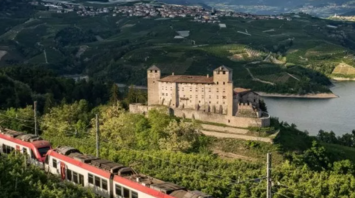 Travel by train on the Noche Valley. Source: repubblica.it
Nineteen opportunities to discover the estates between Val di Sole and Val di Non, between art, landscape, culture and tastings.
The Trentino Castle Train is back, offering guided tours of estates in the very south of Italy from May 19 to September. All excursions immerse visitors in fine art, local culture, and of course offer tastings of local products, La Repubblica.it reports.
The train offers a ride on the Trento-Male railway line with dedicated cars ascending the slopes of the Noche Valley. From the Mezzana station, you take a bus to the castle of San Michele di Ossana, the first of four castles known for its mighty 25-meter-high fortress that dominates the sturdy wall.
The tour continues to Castel Caldes, a Gothic-style mansion that was the result of a meeting of Venetian, Lombard and German cultures. Then the route passes through a number of architectural landmarks. Between one visit and the next, there will be room for a variety of breaks dedicated to tasting local culinary delights.
"This is an event that reinforces the many characteristics of the region: artistic, natural, cultural and gastronomic," emphasizes Matteo Agnolin, director of Apt Trento. "The steady increase in the number of meetings, which this year reached a record 19, reflects the appreciation of a public that is no longer content with traditional visits, but seeks instead transversal and stimulating experiences. "The Little Train of Castles fully supports this trend".