New York's tough rental rules may result in Airbnb shutting down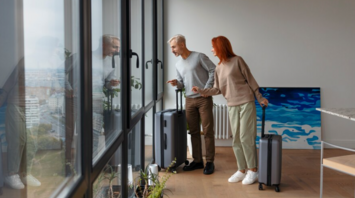 Renting a house. Source: Freepic
Travellers to New York City will be unpleasantly surprised by some new restrictions. Starting September 5, local authorities are changing the rules for short-term rentals.
The rules apply to booking platforms and hotels. Experts fear that the whole idea of booking online may collapse, matzav writes.
What will change:
- No more than two guests can live in a rented home, regardless of the size of the home and the number of bedrooms.
- Owners must be physically present during the rental of their property.
- The doors inside the dwelling must be unlocked so that tenants can access the entire dwelling.
It should be noted that the law on the registration of short-term rentals, or local law 18, was adopted in January 2022. The law was delayed for many reasons, including lawsuits filed by Airbnb.
Local authorities are confident that the law will eradicate illegal short-term rentals, ensure the safety of guests staying in private homes, and ease the tightening of the housing market.
At the same time, Theo Yedinsky, a representative of Airbnb, notes that "the new short-term rental rules in New York are a blow to the tourism economy. . . . The city is sending a clear message to the millions of potential visitors who will now have fewer accommodation options when visiting New York: you are not welcome."
It is noted that now the owners of houses and apartments who want to add their premises to platforms such as Airbnb, Vrbo or Booking.com must register with the Office of Special Control (OSE).
The application costs $145. If the department approves the application, it will issue a registration number that will appear on the host's online listing.
Airbnb said that listings without a registration number will not be able to accept new bookings after the law comes into force. To avoid disruption of future trips, the company takes into account bookings made before September 5 for stays until December 1. After December 1, Airbnb will cancel bookings in non-certified properties and refunds.
According to statistics from the New York City Department of Tourism, more than 56 million people visited New York City in 2022, and this year it is expected to reach 63 million travellers.
According to the president and CEO of the New York Hotel Association, the city has about 127,000 hotel rooms.
In comparison, Airbnb counted about 38,500 "active non-hotel rooms" that have been booked at least once since January 1, according to a court document in which the company challenged local law 18.
According to the newspaper, when hosts decide to take down their ads due to the new strict rules, accommodation options may decrease, leading to higher prices.