New conditions for US Green Card lottery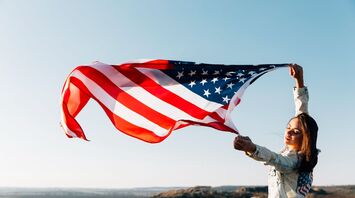 American flag. Source: Freepic
On October 4, applications for the right to participate in the traditional American Green Card DV-2025 lottery will be accepted. The US Department of State has announced that the relevant documents will be accepted until November 7.
This is a special program of the US State Department that allows almost anyone to obtain a Green Card. However, this year, due to the war in Ukraine, Russians will not participate in the lottery, according to a statement on the State Department's website.
At the same time, it is emphasized that any person who has graduated from school or worked for two years in a specialty, or if the applicant has two years of professional training within the last five years, can participate in the lottery.
According to the terms of the competition, lotteries are numbered with the Latin letters DV and the year of completion of visa interviews. Thus, this year's lottery provides for the drawing of a Green Card for 2025. The Green Card is valid for 10 years, but it can be extended.
Among the conditions of the Green Card lottery is the requirement for the holder to comply with US law, as well as to pay taxes and reside in the United States for most of the year. Potential Green Card winners are warned that if they leave the United States for more than 6 months, the card will be cancelled.
Potential lottery participants are reminded that to take part in the lottery, they must fill out a questionnaire and provide a photo taken no later than six months ago.
What the winner of the Green Card lottery will receive
According to the terms of the contest, the winner of the Green Card lottery is granted the right to live permanently in the United States, as well as freely enter and leave. The winner of the lottery also has the right to officially work or start his or her own business, receive education, use insurance and social security, and apply for family reunification.
In addition, after 5 years of residence in the country after receiving a Green Card, its holder can become a US citizen. An important nuance is that the lottery winner does not have to renounce his or her first citizenship.