Much easier than you thought: what you need for a chic picnic without a car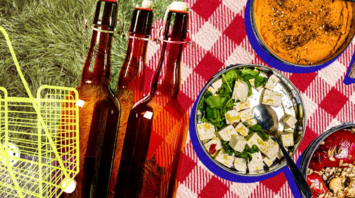 Picnic. Source: Lille Allen/Eater
Although most travel and picnic advice is written for people with cars, there are a number of options available for visiting places of interest and relaxing without a car.
This will require a little more thought about how well your preferred food will travel without a mobile fridge. If you're travelling without a car, you should avoid cheeses that spoil very quickly, Еater writes.
Instead, you should stick to things that can be easily wrapped in parchment paper, such as bakery products
Sauces that do not need to be refrigerated immediately are also recommended. The same goes for cocktails. Stirred drinks that can be dosed and pre-diluted are very convenient for travelling - you can simply pour them over ice wherever you go.
And if you insist on a garnish, note that dehydrated citrus wheels are much easier to transport than lots of wet pre-sliced lime slices.
Picnic baskets and coolers are great until you realise you've been wandering around the park for 10 minutes trying to find the right spot and your forearms want to fall off. Instead, buy yourself an insulated backpack that can hold all your food and drinks and keep your hands free. Also, invest in sturdy ice packs so you don't have a pile of crumbling ice.
You can also use a picnic blanket without. After all, you now have a whole generation of trendy, plush and waterproof picnic blankets with handles for easy carrying.
At the same time, the old-fashioned grandma's trolley is essential for picnickers, especially when they plan to bring cocktails. It can hold a picnic blanket, a small ice chest, cocktail bottles, a bar set and even glassware.
Lightweight, airtight containers that can be stacked are key to transporting food safely and ensuring it stays fresh. There are also sets with snap-on lids if you're particularly worried about leakage. And while glass containers may be more aesthetically pleasing when you're carrying a picnic around, lightness has an advantage.
You can also pack some lightweight aluminium cups to make the evening a little more chic than with the usual plastic ones. And, of course, wherever you go, be sure to take out all your rubbish, the authors add.