Londoners won the ranking of the most beautiful people in the world: a survey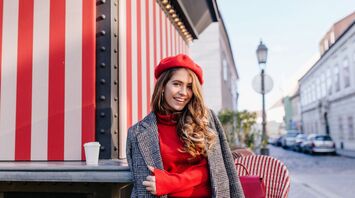 A beautiful girl in red. Source: Freepic
The capital of the United Kingdom, which is rich in cultural diversity and history, has been ranked first in the rating of the dating website Seekeng.com. According to the survey, Londoners were named the most attractive.
The last place was taken by Las Vegas residents. The Daily Mail writes about why Londoners took the first place on the beauty pedestal.
As it became known, the study included such representatives of the UK as Kate Moss, Naomi Campbell, and Cara Delevingne. David Beckham, Jude Law, and Robert Pattinson were among the men.
In total, 17% of respondents voted for Londoners, while Los Angeles was in second place with 12%.
Milan, Rome, and Barcelona were also popular in the survey, rounding out the top five.
The American entertainment city of Las Vegas, where there are many casinos, received only 1% as a city with beautiful people.
Richard Wells, a tourism director from Lewisham, added that Londoners are the "top of the tree" when it comes to looking good.
"I've been to more than 70 countries, but whenever I'm home in London, I see the most beautiful people. When I go out into central London, it's like a catwalk with people everywhere looking like supermodels. I feel a bit out of place, to be honest with you, because I'm just an ordinary Joe from Lewisham," he said.