Lake District of Great Britain: what attracts tourists to this mountainous region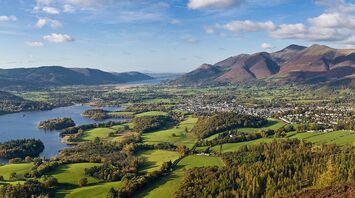 Panoramic view of Kezik from the top of Walla Craig Mountain. Source: wikipedia
TheLake District is a mountainous region in Northwest England, in the county of Cumbria. It is a favorite vacation destination for more than 15 million tourists every year.
Here you can enjoy the scenery and quaint towns. Lancs.live writes about the best ways to relax in the Lake District and take care of the tourist area.
How to enjoy your vacation in the Lake District
1. Travel without a car
There are many options for traveling on the tiny roads of the Lake District. But it is better to leave your car at home. This is not only because of traffic jams, but also because it will not interfere with other road users - cyclists and pedestrians.
Experts call this type of travel the best among rural roads. You can also rent a bicycle. Six parking lots are available for travelers with inclusive features.
2. Reduce noise and don't disturb the locals
In addition to congestion, tourists often cause noise and congestion on the roads, polluting the air. Locals are concerned that these factors upset the balance of wildlife. That's why it's so important to obey the speed limit in this region. Smooth driving is very important in the Lake District.
3. Clean up after yourself
In such a wilderness, it is very important to clean up after yourself and dispose of your garbage in a way that does not harm animals and the environment. It's not just about picnic trash, but also about picking up dog feces.
4. Buy local products
You can support the local community by buying souvenirs and eating and drinking in local establishments. This is the best way to help develop the local economy. In addition, you can get to know the local cuisine better.
5. Be careful
In addition to the usual relaxing vacation, this region attracts millions of sports and adventure lovers. It can be ordinary mountain hiking, as well as cycling. Be careful before starting the route, get to know the area better and take the contacts of the rescue services.
Also, don't forget to check your equipment, compass and have a good map, as mobile communication in the Lakes is often poor.
Check the weather before you go and be prepared for all eventualities.