"It was like a roller coaster": A passenger plane experienced severe turbulence over Mallorca. Video.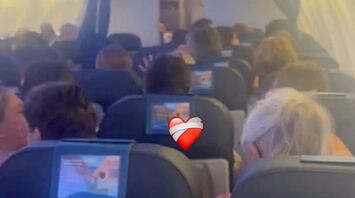 There was a real panic on board. Source: Video screenshot
A passenger filmed a video from the cabin of an airplane caught in a severe storm in Mallorca. According to her, at some point, the plane just started bouncing, and the flight itself turned into a roller coaster.
Actress Estela Orts from a popular Spanish show, who was on board the liner, wrote that at the beginning of the flight, the aircraft hit a small zone of turbulence, which suddenly intensified, after which panic began in the cabin, Daily Star reports.
"The plane began to fall. Adults and children were screaming and vomiting. I could not hold back my tears. I don't know how long that moment lasted, but it seemed eternal. Until the pilot managed to stabilize the plane, it was like a roller coaster," she said, admitting that the thought "this is the end" crossed her mind for the first time in her life.
According to Orts, after a while, the pilot announced that the plane was being tossed around by a side wind of 130 kilometers per hour, making landing impossible. The aircraft had to return to the airport of departure.
The footage posted by the actress shows passengers in the cabin screaming in terror.