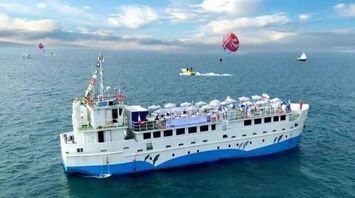 ''Marina Hazar''. Source: IRNА
Iran has unveiled the first cruise ship on the Caspian Sea. The ship is called "Marina Hazar". It was launched to develop tourism in Iran.
The inauguration ceremony was held in Nowshehra, northern Mazandaran province in late August. IRNA reported.
The liner will be used for foreign and domestic tourists in the coastal area of Mazandaran province.
It can carry at least 70 passengers and has a restaurant with a capacity of at least 25 people. For entertainment, the vessel has a jet ski.
The liner is about 20 meters long, five meters wide, weighs 20 tons and has a speed of 50 km per hour. "Marina Hazra" was built in 2012 by an Emirati manufacturer.