Hurricanes in the Atlantic are no longer an obstacle: VIP hotel renews guarantee for vacationers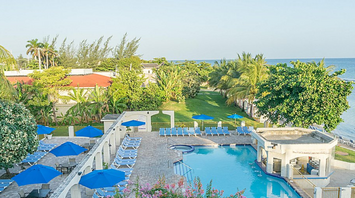 Holiday Inn Resort Montego Bay All-Inclusive. Source: ihg.com
Holiday Inn Resort® Montego Bay, an all-inclusive hotel, has announced the renewal of its annual hurricane warranty. It is noted that the hurricane season in the region starts on June 1.
Thus, hotels are trying to protect their visitors from possible travel disruptions. This refers to hurricanes of category 1 or higher, reports Caribbean News Global.
Who can count on a guarantee against vacation disruption
This guarantee applies to all resort bookings during the entire Atlantic hurricane season, from June 1 to November 30, 2023.
If a hurricane occurs before your vacation
In the event that guests had a booking confirmation with a non-refundable deposit and are traveling in the name of Sangster in Montego Bay only, they can expect to be rebooked. This applies to a category 1 hurricane.

It is noted that customers can make a new reservation without penalty.
In addition, the hotel promises to upgrade the room category if there are cities available. However, this does not apply to suites.
If a hurricane finds tourists in a hotel
If a category 1 or higher hurricane interrupts the resort's operations for more than 24 hours, guests already staying at the hotel will receive a certificate valid for a free future stay.
It is noted that they must be used within a year from the date of issue. The number of days provided will be equal to the number by which the vacation was interrupted.
According to the publication, tourists will be provided with a free further stay, subject to availability.

"Our Hurricane Guarantee is an effective counterbalance to the unpredictability of hurricane season, allowing our guests to book their summer vacations with the confidence that we will support them if their trip is disrupted," said Nicola Madden-Graig, group director of marketing and sales.
At the same time, it is noted that the Holiday Inn Resort® Montego Bay Hurricane Guarantee is valid only for reservations made by travelers from the United States.
Group bookings are not valid and the program is subject to change at any time.
What is known about hotel Holiday Inn Resort® Montego Bay
The hotel is located in Jamaica near the city of Montenegro Bay. It is an all-inclusive hotel with a private beach, 2 outdoor pools, a spa and a casino.
The rooms are decorated in a tropical style and have beautiful views.