Hong Kong: the best tourist route in the world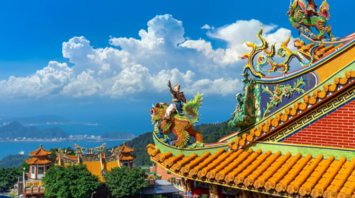 Landscapes of China. Source: Freepic
Hong Kong remains one of the most popular destinations for tourists from all over the world. It has long earned the status of one of the most glamorous tourist and business destinations in the world and is rightfully recognized as the commercial and cultural gateway to Asia.
Hong Kong represents an impressive intersection of cruise lines and also attracts a wide range of travelers. Since the beginning of 2023, Hong Kong has experienced a significant recovery in cruise traffic after pandemic restrictions, writes Global Traveler.
For tourists, Hong Kong is known for its architectural wonders. The renovated seaport can simultaneously accommodate two supercruise ships and can accommodate 8,400 passengers and 1,200 members. At the same time, a new terminal at the airport has also recently been put into operation, and the runway for airplanes has been redesigned.
One of the liveliest tourist areas, Tsim Sha Tsui is the starting point for visiting Hong Kong due to its proximity to the Hong Kong Art Museum, Hong Kong Space Museum, restaurants and shops. At the same time, other well-known cultural heritage sites have recently received significant structural, aesthetic, security and retail upgrades.
The West Kowloon Cultural District is one of the world's largest cultural centers and offers guests cutting-edge art, design and architecture from the 20th and 21st centuries. The Hong Kong Palace Museum fascinates visitors with the Radiance exhibition, consisting of 200 dazzling gold objects from all over China, dating back almost 4000 years.
Tourists looking to avoid the crowds are advised to take the Ding Ding tram, which crosses Hong Kong Island at a leisurely pace. Avid walkers can also take advantage of the new promenade that runs from Kennedy Town on the western part of Hong Kong Island to North Point to the east, with plenty of breathtaking views.
At the same time, travelers are advised to stay in Hong Kong for a few extra days to see many interesting sites, such as the 80-story bamboo skyscraper used for scaffolding and renovation, or the neoclassical-style Court of Appeal building.
For accommodation, you can choose from several luxury offers, one of which is The Fullerton Ocean Park. This stunning luxury resort offers a relaxing and tranquil stay, where each of the 425 well-appointed rooms overlooks the South China Sea. Here, clients have the opportunity to enjoy five dining options; a luxurious spa.
Ocean Drive offers guests mid-century modern decoration by renowned designers and artworks from London's Pontone Gallery. The exquisite boutique hotel offers 210 rooms in the heart of the city's most fashionable enclave, nestled among stylish shops and street markets.
Rosewood Hong Kong offers an ultra-luxury property with 413 rooms. It features an executive lounge, 11 restaurants, including The Dining Room, known for authentic Italian cuisine from Chef Giovanni Galeotti and a world-class wine list.
Among the dining options, Auor is worth paying attention to. The restaurant's cuisine puts an edible twist on time travel with a menu that combines French techniques, Pan-Asian ingredients, and seasonality into individual and varied dishes.
Another chic restaurant is The Merchants. Here guests are offered a real culinary miracle, as the restaurant is located in the chic Landmark shopping center. It is worth noting that the restaurant is marked with a Michelin star, so guests can expect a gourmet menu and high-quality service.