Gastronomic tour in Hanoi: Vietnamese cuisine becomes popular among food enthusiasts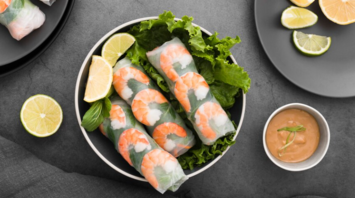 Vietnamese cuisine. Source: Freepic
Vietnamese cuisine is famous for its richness of flavors and a variety of dishes that combine fresh herbs, spices, and different textures. The fundamental element in many dishes is rice, which is often served with vegetables, seafood, or meat.
Tourists are especially recommended to visit Hanoi. Last year, according to Tripadvisor, Hanoi's cuisine was ranked among the top 25 best destinations in the world, as reported by vietnamplus.vn.
Recently, local authorities have been seriously concerned about drawing attention to the local culinary culture. Many dishes have been recognized by foreign travel websites.
The Vietnam Culinary and Cultural Association (VCCA) plans to turn Hanoi cuisine into a national trademark. This ambitious plan includes collecting more than a thousand typical dishes representing authentic Vietnamese flavors and creating a user-friendly online platform where each of these dishes will be available as an interactive map. This approach is expected to attract the attention of both local gourmets and foreign taste connoisseurs.
What to try in Hanoi
Typical dishes of Hanoi include Nem (spring rolls), Pho (noodles), young rice from Vong village, Cha Cha (grilled fish), bun (noodles with snails), Banh Tom Ho Tai (West Lake shrimp cake), Banh Cuon Thanh Chi (Thanh Tri, steamed rice buns), Xoi Phu Tiong (steamed glutinous rice, Phu Tiong), Banh Daj Quang Ganh (round glutinous rice cake, Quang Hanh).
It is known that this year three restaurants in Hanoi have received Michelin stars. In addition, 45 won awards at the Michelin Guide Ceremony.
Shortly, Hanoi will develop its culinary products, and offer night gastronomic tours and trips to the countryside, which will make it easier for tourists to get acquainted with local cuisine.
Additionally, it is planned to hold the annual Hanoi Culinary Festival.