For the first time in history: a thermal imaging drone captures the Loch Ness Monster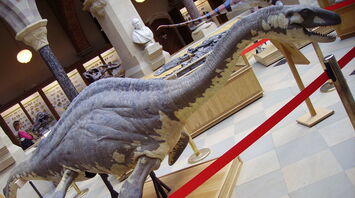 The Loch Ness monster made for television. Source: Wikipedia
Dragonfly Films producer Tim Whittard said his team used thermal imaging drones to scour Loch Ness Lake in Scotland and detected a heat signature. The team believes it was the "Loch Ness Monster."
So the project stated that they made the first-ever video of Nessie being imaged by a drone. The video does show a large animal on the shore of the famous lake. Whether it is actually Nessie, however, is unknown.
"These thermal drones allowed us to see the lake in infrared light. With this equipment, we were able to see immediately if any animal had come to the surface of the water. And it did detect an unusual heat signature. One of the thermal imaging drones shows a large mass near the shore," Whittard said.
He said 12 people heard the mysterious sounds through the speaker system.