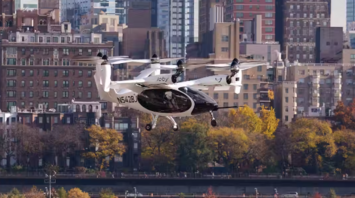 Flying electric taxis may appear in New York in 2025. Source: Joby Aviation
An electric flying taxi from Joby Aviation and Volocopter was demonstrated in New York. Technically, it is an electric helicopter. It is planned that they will start operating in 2025.
Electric helicopters offer a quieter way of travelling with lower emissions. Thus, it will be possible to reduce the travel time between John F. Kennedy Airport and midtown Manhattan to just seven minutes, reports the Manila Bulletin.
The idea is to transport passengers from John F. Kennedy Airport to midtown Manhattan. There will be three electrified stations at the Downtown Manhattan and East 34th Street Helipads. The third helipad is privately owned, and would likely be used by more senior officials.
The electrified aircraft will charge at the helipad for five minutes after landing before taking off.
This line of electrified vehicles is called eVTOL, which stands for all-electric and hybrid-electric powered vertical takeoff and landing.
Joby's eVTOL has seats for four passengers. There is no information on how many of these vehicles will be used.