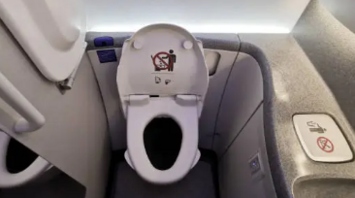 Toilet in the airplane. Source: pixabay.com.
A 33-year-old flight attendant has spoken about the terrible state of airplane toilets. She admitted that she tries to avoid going to the place during the flight.
The flight attendant under the nickname sassy_chick01 revealed this information while chatting with users on Reddit. The Daily Mail reports that.
"The bathrooms are quickly wiped down between flights but not sanitized. For example, the flush button in the bathroom has 265 colony-forming units of bacteria per square inch," the flight attendant said.
She also added that the dirtiest places on an airplane are tray tables, headrests, seat back pockets, toilet locks, bathrooms, seat tops, in-flight magazines, overhead vents, seat belt buckles, interior walls, entertainment screens and armrests.
She also advised people to bring their own blankets. As freshly laundered blankets and pillows are only supplied on the first flights of the day. After the flight, the items are folded and then reused by the next passengers.
Also, be sure to keep hand sanitizer on hand to avoid contracting germs during the flight.