Fast Internet in London Underground will be available on the Central line due to extension of mobile coverage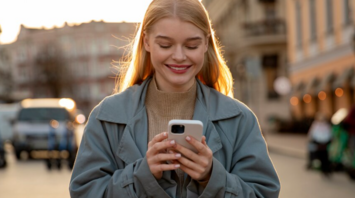 A woman with a phone. Source: Freepic
When travelling by public transport, passengers need to stay connected and have access to high-speed Internet. This applies to both surface and underground transportation.
The London Underground has recently launched mobile coverage in the Central Line tunnels between Oxford Circus and Tottenham Court Road. In addition, high-quality mobile phone service will also be available at the ticket office and on the escalators of Tottenham Court Road metro station, as well as on the platforms of the Northern line, Metro writes.
Internet access is currently provided on the Jubilee line between Westminster and Canning Town. At the same time, the Central line between Holland Park and Queensway and the Northern line between Archway and Kentish Town have mobile coverage.
However, networks are also improving with the development of technology. The first stations were connected to the 4G network on the Elizabeth line.
According to the plans of the local subway, Bond Street, Tottenham Court Road, Farringdon, and Liverpool Street stations on the Elizabeth line will join the high-speed mobile data network of Transport for London by Christmas.
The construction of seven other stations and tunnels between Paddington, Abbey Wood, and Stratford will be completed by the end of April, and all central London stations are expected to be connected by next spring.
In addition, London Underground passengers will soon be able to access 4G and even faster 5G networks at ticket offices, on platforms, and in the tunnel between stations.
"This means that Londoners and visitors can now access the latest travel information or social media, check their emails, make calls, and stream videos while travelling underground," said London Mayor Sadiq Khan.
As part of the ongoing rollout of additional capacity in the London Underground by major network operators Three UK, EE, Vodafone and Virgin Media O2 (VMO2), the new network coverage will also cover 33 other stations and adjacent tunnels.