Family vacation for children with special needs: 9 tips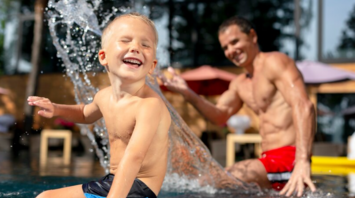 Family vacation in a water park. Source: Freepic
It is not easy for a family with a child who has physical or intellectual disabilities to find a place to relax. One of the parents of such a child tried to choose friendly tourist destinations for their child.
A family trip can be comfortable for the whole family if you take into account the unique needs of everyone. Read the article from Yahoo to find out what kind of vacation spots we are talking about.
First of all, it should be noted that this is a vacation for neurodiverse children. Neurodiversity means that a child may have an abnormality or peculiarity in the development of the nervous system. For example, these can be children with autism, atypical development, some attention and hyperactivity disorders (e.g., diagnoses on the autism spectrum, autism, Asperger's, and others).
Then the father of such a child shared a list of the best places to go on vacation.
1. All-inclusive resorts.
Neurodivergent children also do well at all-inclusive resorts that offer a wide variety of restaurants and activities, so they are likely to find something they like.
For those families, the Beaches Resorts (located in Ocho Rios and Negril, Jamaica; and Providenciales, Turks and Caicos) are a good fit.
These are three beach resorts that host continuous activities for children. In addition, there is a large number of places to relax, and each beach is certified as autism-friendly. There are also trained staff, and the children's camps and dining options are also well suited for neurodivergent children.
Another option is the Riviera Cancun Grand Residences in Mexico. This resort in Cancun is suitable for families with children. It is smaller, but it is convenient for such families. There is easy access to the beach, guided bike tours, and an on-site kids club.
2. Active recreation
Children with ADHD are active travelers. Vacations on the beach are not their style. That's why planning an active vacation is ideal for the whole family. The all-inclusive Hilton Cancun is a great choice in Mexico. It's easy to organize adventures on the Mayan Riviera, rent an ATV to explore the ruins, and swim on the hotel beach. In the evening, you'll enjoy dancing and water sports. And with its many pools and quiet areas, this resort is perfect for everyone.
Costa Rica offers great opportunities for wildlife immersion. You can go zip-lining and hiking. For children and teenagers, the Planet Hollywood Costa Rica theme park on the Pacific coast will be especially interesting. With delicious restaurants, two swimming pools and a swimming area, there is always plenty to do. Another great alternative is the Riu Palace Costa Rica, where four pools and a water park guarantee fun for the whole family.
3. Focus on special interests
Children with autism or ADHD may be deeply passionate about their interests. It's worth planning a vacation around their preferences, whether it's visiting Roman ruins, exploring caves, or exploring the world of fashion.
For example, dinosaur lovers can go to Dinosaur National Monument in Utah, while country music fans can go to Nashville. Your children's diverse interests can be successfully woven into a travel plan, and it can be a lot of fun for both them and you.
4. Think about stopping
Traveling for children with neurodiversity can be a challenge. However, a vacation close to home can be very beneficial in helping them to learn new experiences. Choose vacation destinations with everything you need - food, entertainment, and accommodations all under one roof. Gaylord Resorts in the United States is a great option because they minimize difficult transitions and offer seasonal activities. Also worth considering are Omni hotels, such as the Omni Park Grove Inn in Asheville, North Carolina, with hiking trails and a variety of daily events.
Look for hotels that specialize in welcoming guests with autism. Hilton hotels are often known for their friendly atmosphere and quiet areas for sensory breaks. Virgin hotels also offer autism certification, making them a great choice for families with autism.
5. Ask about autism certifications
Organizations such as Austim Double Checked and Autism Travel provide reliable vacation planning for families with autism. They train hotel and attraction staff on how to best support neurodivergent guests and issue certificates that confirm that venues meet their high standards.
LEGOLAND Resort in New York is a certified autism-friendly hotel and theme park that provides support for neurodiverse guests. Sensory guides and a quiet room are available here, and the staff is always ready to provide the necessary assistance. On the international level, Beaches Resorts and Nickelodeon Resorts are worth considering, as they are also certified for autism treatment. They have well-trained staff who are ready to provide support anywhere and anytime.
6. Amusement parks
Amusement parks can be bright and loud, but they can also be great for children with neurodevelopmental disorders because of the special programs and facilities they offer.
For example, Silver Dollar City in Branson and Universal Orlando Resort in Florida are the best in this regard. They provide detailed guides that point out rides with loud noises and sudden movements. Additionally, both parks have quiet sensory rooms for neurodivergent guests and offer accommodations for those who may feel overwhelmed by waiting in lines.
7. Water parks
Many neurodivergent children find comfort in the water. Some of the water parks offer water slides and lazy rivers for the brave. You will find areas for younger visitors here as well.
Discovery Cove Water Park and Aquatica Orlando are certified for guests with autism. Great Wolf Lodge's indoor water parks across the country are open year-round, and all locations are certified autism-friendly.
We also recommend Gaylord Opryland Waterpark in Nashville, which has an incredible water park and outdoor attractions. Families with neurodiverse children will love the "river" that flows around the first floor.
8. Small towns and villages
Big cities are fun for some families, but for neurodiverse children, they can be overwhelming. Asheville, North Carolina, has a variety of activities to do. You can take a walk along the Blue Ridge Parkway, visit the pinball museum and the Citizen vinyl record factory.
The town of Myrtle Beach, for example, has been recognized as autism friendly because of their commitment to providing a large number of attractions, hotels and restaurants that can provide support for neurodiverse people.
9. Consider specialty planning
While some places work better than others, no destination should be ruled out for anyone because they are neurodiverse. Travel companies such as Intrepid Travel, one of the best family tour operators in the world, can help plan trips to almost anywhere in the world with the unique needs of a neurodivergent family member in mind.