Essential skincare tips for long journeys and flights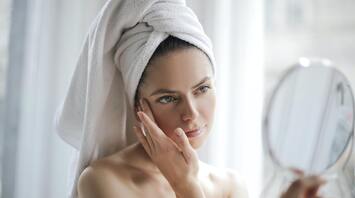 Skin care is always important. Source: Pexels
It's no secret that long journeys, heavy flights and changing climatic conditions are not good for the skin. It becomes vulnerable and deteriorates quickly.
However, if you follow simple tips, you can effectively take care of your skin and look good almost anywhere in the world. This is what swirlster writes about.
Here are some important skincare tips to remember when travelling for a long time.
Firstly, always remember that when travelling by plane, there is a change in temperature and atmospheric pressure, so these changes can be harmful to the skin. Therefore, you should take the need to cleanse your skin properly seriously.
In particular, deep cleansing treatments can help with skin care. Every time there is a significant change in temperature, you should cleanse your skin (even twice a day), as otherwise there is a risk of skin rashes.
In addition, you should pay due attention to skin moisturising procedures. This issue is especially important during long flights. There's no special secret here, as prolonged exposure to the aircraft cabin literally sucks useful minerals from the skin.
This negatively affects its overall condition. Hyaluronic acid in the form of a serum can help, as it provides a rescue layer with a nourishing moisturiser.
You should also remember the benefits of using skin wipes. After all, they often become the very lifeline that will help in a critical moment. So, this particular product will help to keep your skin smooth and supple, as well as give your skin a fresh feeling and instantly moisturise it.
In addition, experts strongly advise you to pay close attention to the careful selection of ingredients that accompany you on your journey. After all, it may not be the best choice on your daily journey.
A long flight usually causes a temperature change, so your skin will need a soothing product. Products with niacinamide can definitely be such products. They restore the skin to its natural state and help suppress the inflammatory reaction of the skin, soothe and calm the skin.