Emirates Airlines signs an agreement with Boeing to use drones for aircraft inspection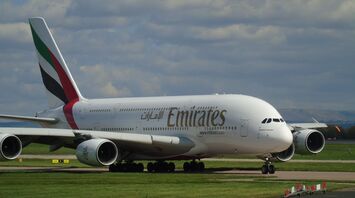 Emirates Airlines signs an agreement with Boeing to use drones for aircraft inspection. Source: Pixabay
Emirates Airlines, one of the two national carriers of the United Arab Emirates, has signed an agreement with Boeing to use unmanned aerial vehicles (UAVs) to check the technical condition of its aircraft.
This technology aims to speed up the inspection process and improve efficiency compared to manual inspections. This is reported by the DroneDJ website.
According to Emirates, this will reduce the inspection time, as well as increase the safety and efficiency of personnel. The use of mixed, virtual, and augmented reality (AR) technologies allows engineers to assess the operation and condition of even the internal components of the aircraft. This ensures more accurate inspection of aircraft, reduces the risk of human error, and significantly reduces the time an aircraft spends out of service.
Ahmed Safa, senior vice president of Emirates Engineering, said that the company's agreement with Boeing to introduce drones and related technologies promises significant improvements in its inspection activities.
"Our partnership with Boeing will allow us to maximize the benefits of advanced technology and digital excellence to improve operational reliability, minimize disruptions and ensure our fleet operates to the highest standards, ultimately giving our customers the best travel experience," Safa said.
The drones to be used by Emirates were developed by Donecle. The UAVs are equipped with laser sensors and high-resolution cameras, which allow them to scan the surface of the aircraft in detail and detect any damage or defects.
The agreement between Emirates and Boeing was one of many announced at the Dubai Airshow. It covers a wide range of the airline's operating procedures. The expansion of the use of the latest digital technologies to improve its operations, including the use of drones for aircraft inspection, is the main one.
The use of drones to inspect commercial and military aircraft is not new. Airlines such as Korean Air and KLM are already using UAVs to inspect aircraft for dents, creases, and even early signs of microcracks in the wings or fuselage.