Drama on board: passenger tells how refusal to change seats caused a scandal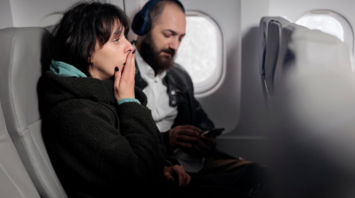 In the airplane cabin. Source: Freepic
A passenger on an 11-hour flight from New York to Cairo told about the scandal she was involved in after she refused to change seats with a fellow tourist. According to the passenger, the man wanted to sit next to his wife.
According to the passenger, she refused to change her seat near the window with a "full" passenger. As a result, the man started a scandal out of nothing, according to the Dailymail.
The woman anonymously shared her story on the Reddit platform. It is emphasized that her story provoked a strong reaction from users.
According to her, the point is that the man asked her to give up her seat near the window, but offered to move to a seat inside the row of seats. She explained that the plane from New York to Cairo was equipped with a three-row seating configuration. Two windows and an aisle on each side with four to five middle seats in the center.
"I had a window over the wing. I chose my seat with the idea of sleeping many months in advance. I had already settled into my seat when my neighbor in the aisle came up and asked if I wanted to switch with his wife so they could sit together," the passenger says.
She did not rule out that the man and woman were with a group of travelers of the same age. Listening to the conversations, it occurred to her that it could be some kind of group tour.
However, when she asked if the seat was up to her standards, the man said that his wife's seat was in the center of the row. In the end, the woman refused to change seats and apologized to the man, adding that she would stay in her assigned seat.
"Instead of swapping seats with the person in the middle seat, he sits down in his seat and starts arguing with me," the furious passenger said.
The woman added that the man criticized her for refusing to switch, adding that she would not have a good "view" from where she was sitting, so she should move.