Cruise ships will be banned from docking in Barcelona's central port: the city suffers from emissions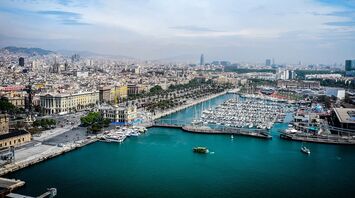 Cruise ships will be banned from docking in Barcelona's central port. Source: Pixabay
The local government of Barcelona, Spain, has taken a controversial step to protect residents from harmful emissions. On October 22, cruise ships will be banned from docking in Barcelona's central port to help clean the air.
The ships will be transferred to the southern port of the city near the Mall Adossat pier. Although this is good news for Barcelona's ecology, tourists are not too happy about this innovation, the Daily Mail reports.
The new rule means that travelers will not be able to quickly get to the historic city center, which is usually the destination for foreigners arriving in Barcelona by air, bus, private transport, and boats.
Cruise ship passengers will have to spend up to 30 minutes to get to the most popular tourist spots.
Luis Salvado, president of the Port of Barcelona, called October 3 "a historic day for the city." He stated: "We are pushing pollution south and reducing the emissions that reach the city."
The number of visitors to the city has skyrocketed since the pandemic restrictions were lifted. Along with this, the number of emissions has also increased.
The number of cruise ships arriving at local ports increased by 8 percent in the first half of 2023 compared to the same period in 2019. An average of 3.1 million people arrive at the port of Barcelona every year.