Couple sold all their possessions to travel the world in a motorhome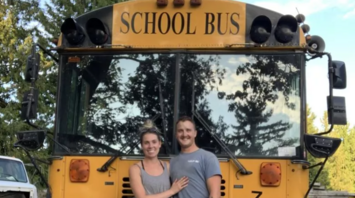 This is how the couple has been living for three years. Source: Jam Press/@claysanabus
Canadian residents Emily Herbert and her partner Matt Rogne sold all their possessions to travel the world in a motorhome. Now they are saving £2,400 a month on utility bills and traveling around North America with their animals.
On their Instagram page, Emily and Matt revealed that they found it difficult to maintain the house and survive. So, they converted a school bus into a house and set out for life on wheels, taking two cats and a dog with them.
"On a rainy day, Matt came back after a long and grueling shift, wet and covered in mud. I met him with great excitement, having spent the entire weekend watching a couple on YouTube who had traveled from Germany to North America. In our desperation, their story seemed like a great dream, and we began to envision the type of bus we would purchase and the destinations we would explore," said Emily, who happens to be a content manager by profession.
So, in August 2019, they bought a school bus for $5,500 (£4,400) and got to work. The coronavirus pandemic made work difficult and they couldn't travel, but it gave them more time to focus on getting their new home up to code.
It cost a total of $65,000 (£51,600) to convert the bus.
"We have been living in our bus for three years now. Its interior space is only about 300 square feet, so it's like a small apartment or one big room! Sometimes it can be hard to get personal space. The most amazing thing we've experienced is the different views we've been able to see when we wake up looking out of our bedroom window!" - the woman added.
Since Emily and Matt first hit the gas, they have traveled throughout British Columbia, Alberta and the Yukon.
"Back when we owned our own home, our monthly bills were over $6,000. Now, depending on where we stay and how often we move by bus, our monthly bills are around $3,000. The investments we contribute to, our life insurance policy, weekly grocery bills, pet food and sometimes meals out of the house," Matt shared.
However, the couple acknowledged that there are downsides.
"The best part is that we can just walk out the door and usually end up in a beautiful place to do just that! In the summer, it gets warmer and it can be difficult to keep the bus at a comfortable temperature with adequate airflow. Another problem is that it can be difficult to find a parking space," said residents on wheels.