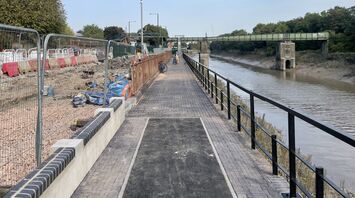 Chocolate Path in Bristol. Source: bristol247.com
The Chocolate Path on the north bank of the Avon River in Newquay (UK) has opened after six years.
The path is named so not because of any connection with the chocolate industry in Bristol but because the small square paving slabs on the trail look like blocks of chocolate, Bristol 24/7 reports.
At the same time, work to restore the railroad line between the Chocolate Parh and Cumberland Road is still underway.
This path is currently covered with asphalt and tiles. You can walk or ride a bike along it.
The Chocolate Path and Harbor Railroad have been closed since December 2017, a year after problems with the trail and the seafront wall were first noticed. Throughout 2018 and 2019, plans to repair the embankment worth £5 million were drawn up, but no one did anything until the entire embankment collapsed into the river in early 2020, taking half of the road with it.