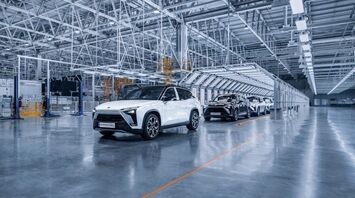 Chinese EV maker Nio . Source: AUTO3N
Chinese EV maker Nio plans to launch its first in-car mobile phone in a bid to improve the appeal of its vehicles with better software and connectivity.
It is the latest Chinese automaker to join the trend of deploying in-car systems that allow drivers to use their smartphones to remotely open doors, turn on the air conditioning, or start their cars, etc., Market Screener reports.
Nio founder and CEO William Li has been a key driver of the phone project, which is aimed primarily at car drivers.
"Our phone business is not to compete with these phone manufacturers," Li told investors. "We would like to use the phone as an operator to provide the best experience for our car users instead."
As the trend toward smartphone use increases drivers' demand for connectivity, more and more automakers are looking for ways to stay ahead of the growing competition.