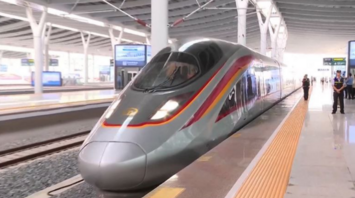 China launches first surface high-speed train. Source: Video screenshot
China's railways are improving every day. The latest addition to the country's portfolio is a 277-kilometer (172-mile) high-speed rail line along the southeast coast connecting the cities of Zhangzhou, Xiamen and Fuzhou, all three of which are in Fujian province.
The maximum speed of trains on this route is 350 kilometers (217 miles) per hour, according to China Railway, the state-owned railroad operator. The first train on this line debuted on Thursday, September 28, departing from Fuzhou, the provincial capital, at 9:15 a.m., CNN reports.
The new railroad currently has 84 bridges and 29 tunnels, as well as 20 km (12 miles) of track running through the sea, making it the country's first surface train.
China Railways says it has used intelligent robots and environmentally friendly corrosion-resistant steel to build the above-water sections of the railroad.
The new line is just one of many infrastructure projects touted by the Chinese government in 2016 when it announced the "Eight Horizontal and Eight Vertical Railways" initiative.