Cheap flights to paradisiacal Key West to save on winter holidays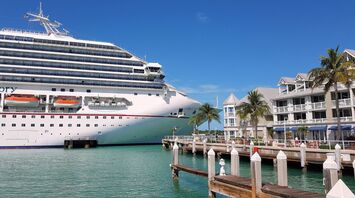 Cruise ship docked at Pier B in Key West. Source: wikipedia
A dream vacation spot for many travellers is the southernmost point of the United States, Key West, accessible by some airlines. Now you can buy tickets for winter holidays at discounted prices.
At the end of summer, it's time to plan a vacation for Christmas. dcourier shares how much do tickets cost and where it will be comfortable and warm if you buy them now.
Travellers often choose exotic islands with beautiful landscapes and pleasant weather. One of the most popular destinations is Hawaii. Here, vacationers can enjoy paradise landscapes, surfing, scuba diving, and whale watching.
Some tourists plan to go to Disney's (DIS) theme parks in Orlando, Florida and Anaheim, California in winter. Puerto Rico is another popular winter travel destination among many others.
Recently, several major US airlines have offered low-cost tickets to Key West, which is located in the state of Florida.
What is known about Key West
This is the southernmost point of the continental United States, 90 miles from Cuba. This city is rich in attractions that are popular among travellers.
Smathers Beach, the lively Duval Street with shops, galleries, bars, and restaurants, and the former home of writer Ernest Hemingway are among them.
Currently, some air carriers offer low-cost tickets for flights arriving at Key West Airport itself. This offer makes travelling much easier, as there is no need to travel from other airports.
In addition, there is no need to rent a car if travellers are planning to rent a vehicle to cover the distance from Miami to Key West.
According to the reviewers at The Points Guy, ticket prices start at $145. The trip is offered by American, Delta and United Airlines.
You can fly to Key West from Austin, Baltimore, Chicago, Houston, San Francisco, and Washington, DC.
How much do flights to Key West cost?
Starting from $204 from Austin-Bergstrom International Airport.
Starting from $207 from Baltimore/Washington Thurgood Marshall International Airport (BWI).
Starting from $208 from Chicago O'Hare International Airport (ORD)
Starting from $145 from George Bush Intercontinental Airport (IAH) in Houston.
Starting from $214 from San Francisco International Airport (SFO).
Starting from $188 from Dulles International Airport (IAD) in Washington, DC.
According to the observer, you need to book tickets now, as prices are subject to change. It is noted that tickets are available until July 2024.