British passengers left on hot plane in Athens due to denial of landing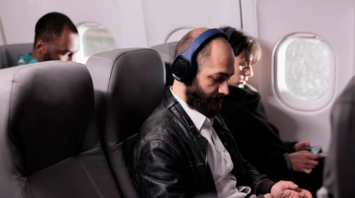 Passengers on an airplane. Source: Freepic
A plane from the United Kingdom en route to Corfu Island in Greece was denied a landing spot and was forced to land in Athens. It is reported that flight LS951 Jet2 was diverted for more than 300 miles.
Instead of explanations, passengers were stuck in the "hot" plane for more than 2 hours. It is noted that the company did not pay attention to babies who were crying from stress and heat, Manchester Evening News reports.
According to Michael Webster, a passenger on this flight, they took off one hour late, and when they approached Corfu, the captain said there was no room for them on the runway.
According to him, they circled with three other planes, and when they started to run out of fuel, they diverted the plane to Athens, which is about 300 miles from their destination.
After they landed, they were left for more than two hours without explanation. Meanwhile, the temperature outside was approaching 90 degrees Fahrenheit (32 degrees Celsius).
Webster reacted outrageously, noting that many babies were crying during the delay.
"Jet2 keeps apologizing, but it's awful. Babies are crying. There are a lot of unhappy babies, and now some adults are angry too," he said.
It is noted that the plane arrived on the island of Corfu eight hours late.
This is not the first incident when passengers were forced to wait in a hot airplane for a further solution to the problem.
For example, in July, tourists on an American Airlines plane had to wait seven hours for a solution. Vacationers on cruise ships also suffered from the heat.