Born lucky: a fisherman in a boat in Hawaii miraculously survived a shark attack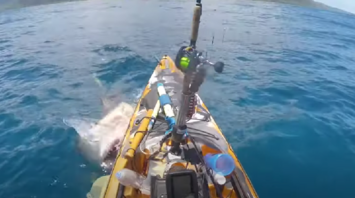 Shark attacks fisherman on a kayak. Source: @SkyNews
Right in the middle of the ocean off the coast of Hawaii, a kayak fisherman was attacked by a huge tiger shark. The predator suddenly jumped out of the water and clawed at the boat with its jaws. The video has already been published by the British edition of Sky News.
It is worth noting that an incredible event took place near the island of Oahu, when Scott Haraguchi encountered an ocean monster. He managed to film the moment of the shark attack.
At first, the predator approached the boat, and then violently bumped the boat, clinging to it with its teeth, almost overturning the vessel.
It should be noted that the fisherman did not lose his courage and repelled the shark's attack by kicking it away.
After the attack, the man himself admitted that only after watching it at home did he realise how lucky he was.
"Everything happened so fast. I instinctively pulled my left foot out of the water to protect myself from the impact, and then pushed the shark's head away. If I was asked to do it again, even without the shark, I don't think I would have had the flexibility," he wrote.
Surprisingly enough, the fisherman was not injured in the shark attack, but his kayak was marked by the predator's teeth. He later speculated that the shark attacked because it mistook his boat for a seal, especially as he had spotted one nearby.
"I realised that life is short and our time on earth is limited. Make the most of it and be kind to people," he told KITV4.