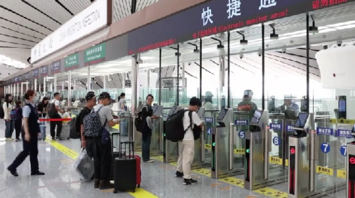 In January it amounted to 10 thousand people. Source: Screenshot from video
Passenger traffic at Daxing International Airport in Beijing, China, exceeded 1 million people in the first 8 months of 2023
This is evidenced by the airport's border inspection data, reports Espns.cn.
"Faced with the increasing number of inbound and outbound passengers, the border inspection staff at Daxing Airport learned about the peak passenger traffic in advance and scientifically deployed police forces to improve inspection efficiency," said Li Wenpeng, a border inspection spokesman.
He informed that airport customers should fully familiarize themselves with the immigration policy of the destination country before traveling.
"Passengers should apply for travel documents in advance and make sure they are authentic and valid. Sufficient time should be reserved for customs clearance," Li said.
It is noted that the number of arriving and departing passengers at Dasin Airport has been growing rapidly since the restoration of international air routes.
Thus, since January 17, monthly passenger traffic - at the beginning of the resumption of flights increased from 10,000 to nearly 300,000.